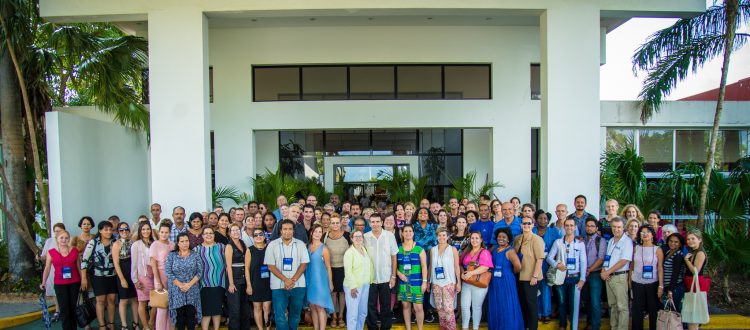 Education Leaders Gather for Cuba TIES 2017
Over 100 international educational leaders representing 34 institutions from Belgium, Brazil, Canada, Colombia, Costa Rica, Mexico, Spain, Sweden and the United States joined representatives of 16 Cuban centers of higher education during the week of October 23, 2017 for the 3rd Annual Workshop of Strategic Alliances for the Internationalization of Higher Education ("Cuba TIES 2017"). Also convening at this international event, hosted by the University of Cienfuegos, were leaders from the Cuba Ministry of Higher Education (MES), NAFSA: Association of International Educators (NAFSA) and Educational Testing Service (ETS). Delegates came to focus and expand on the workshop's three main themes of internationalization, networking, and community (local) development.
This year, The University of Cienfuegos integrated the 1st International Symposium on Language, Culture, and Communication ("PearLanguage Symposium") into Cuba TIES providing opportunities for collaboration and discussion related to language learning and its impact on university and community development. The executive committee dedicated the PearLanguage Symposium to iconic Cuban educator Dr. Dolores Corona, credited for bringing English language learning into the Cuban mainstream.
Cuba TIES officially kicked off with a welcome by Dr. Juan B. Cogollos, rector of the University of Cienfuegos, followed by remarks from Dr. Jacquelyn Thayer Scott, of Cape Breton University and Jill Welch, Deputy Executive Director for Public Policy for NAFSA, Association of International Educators. Welch emphasized the importance of international education within a broader global context:
"Academic, educational, cultural and people-to-people exchanges are vital to laying the groundwork of mutual understanding, helping us learn from each other, and creating a more secure and prosperous world. These programs are what make it possible to build on the foundations of collaboration and understanding when political winds shift."
Prior to the main conference, an offering of pre-conference events was held at the University of Cienfuegos led by both Cuban and international educators. This first-time multinational pre-conference covered a wide range of topics such from internationalization, education, and leadership to the history of Cuban music and dance.
The pre-conference events were an opportunity for educators to experience firsthand Cuban programs in a collaborative environment. Dr. Gabrielle Malfatti, Director of Global Engagement for the University of Missouri College of Education co-led a workshop on internationalization, education and leadership with colleagues Dayni Diaz Mederos, Cuba TIES co-founder and Specialist for Academic International Relations and Xiomara Garcia Navarro, Dean of the Faculty of Educational Sciences for the University of Cienfuegos.
"Preparing and co-leading this workshop at Cienfuegos revealed the power inherent in collaborations rooted in reciprocity and mutualism", Malfatti reflects on her involvement. "As we worked and laughed together we learned more about each other and the educational systems we represent. In the end, everyone had new ideas on how to forge collaborative partnerships that promote cross-cultural understanding and enhanced academic experiences for all involved."
"To develop co-leading this pre-conference workshop with other international fellows provides benefits for us, teachers and participants", Diaz comments. "Benefits include employable, transferable skills such as team work and team leadership, organizational skills and project management, problem-solving, networking, mediation skills and conflict resolution, decision-making and interpersonal skills that are cornerstones in internationalization activity."
Professors Dr. Erica Kight and Katidia Coronado of the University of Central Florida, Nicholson School of Communications led a pre-conference session on institutional communication development for a predominantly Cuban audience. On leading the session, Kight commented, "I enjoyed the exchange of ideas and believe the conference allowed us to strengthen our ongoing partnership with the University of Cienfuegos. I look forward to participating again for several years to come." Co-leader Coronado added, "The conference gave me the opportunity to continue to build bridges and lasting friendships. With an open mind, I was able to see the wonderful academic opportunities that TIES will provide for our Cuban and American students."
At Cuba TIES 2017, 69 presentations, posters and panel discussions focused on three fundamental objectives: To promote a reflexive debate on the impact of the teaching-learning process of foreign languages on international collaboration and local development; to promote the exchange of working experiences and strategies for the integration and active role of international offices on local development and the internationalization of Higher Education and; to reflect on the student's cultural, academic and scientific work and its impact on the internationalization of Higher Education and local development. All levels of academics from deans and provosts to graduate and undergraduate students, contributed to the discussion of these objectives.
Idris Robinson, Assistant Director for International Programs of the Office of Global Health at Drexel University described the challenges in relationship building as a "tug of war" when there is a perception of imbalance between partnering institutions. To overcome such perceived imbalances, Robinson suggests that "instead, each side needs to give in order to receive…and the more respect it is done with the more even the outcome for both parties." This metaphor was seen frequently throughout the week and served as a constant reminder of checks and balances for international agreement and management.
Drs. Teresita Levy, Iliana Gonzalez Crespo and Ana Beltran presented a best practice in Cuba-US collaboration through an on-going international academic partnership between Lehman College, La Universidad de Sancti Spiritus and La Universidad de Camaguey. The partnership includes academic research, student mobility, and collaborative courses.
Dr. Raidell Avello and Dayni Diaz, MA of the University of Cienfuegos presented on the use of information and communication technologies to support sustainable internationalization of higher education in a study with Dr. Valentine Cadieux of Hamline University of Minnesota.
The Cuba TIES 2017 experience also included participation from members of the community of Cienfuegos. Participants were exposed to the city and how culture plays a key role in community development. Delegates took part in a performance by "Rumba Lay", a musical group that integrates Afro-Cuban cultural and religious themes. Attending a rehearsal of the after school program Proyecto Maracá, visiting the Graphic Society of Cienfuegos and the Jagua Castle revealed practical examples of the University's role in community development.
This year's attendance included the largest delegation of Cuban universities to-date. Although Cuban institutions have been working jointly with international institutions for years, Cuba TIES was a rare opportunity to meet educators from the United States to discuss the potential for collaboration at an institutional level. Dr. Yisell Vigoda Escobedo, Director of International Relations for the University of Granma in Bayamo, Cuba said, "I admire the dedication of foreign institutions and the enthusiasm they put in their research to raise their culture and above all to strengthen ties of friendship with the people of Cuba…the exchange with academics of other universities, in the US, was a unique opportunity."
Cuba TIES 2017 showcased the many strengths of the Cuban educational system. The event was covered by local Cuban news media and showcased that collaboration between the two countries is still possible. In an interview with 5 de Septiembre, the newspaper for Cienfuegos, Dairo Enrique Moreno, President of Civitas GES and co-founder of Cuba TIES commented that "this workshop aims, precisely, to showcase the Cuban educational system, specifically the University and show the world everything they have achieved. We [as US Educators] can learn a lot here, in fact, we have learned, and hope to continue collaborating in the future."
Rector Cogollos welcomes the international community to return to Cienfuegos for Cuba TIES 2018 will take place from October 22 -28, 2018. For more information, go to www.CivitasGES.com/TIES-2018 or contact CubaPrograms@CivitasGES.com.

Photo Credit: Idris Robinson, Drexel University
Civitas GES is an educational services provider focused on creating bridges between cultures and nations through education and partnership building.