The X International Meeting of "The Presence of Paulo Freire: A Space to Reflect and Grow" is an original workshop dedicated to the legacy and philosophy of the late great Brazilian educator Paulo Freire.
Every other year, the University of Cienfuegos Faculty of Pedagogy in cooperation with the Cuban Association of Pedagogy (APC) convene this meeting to explore the teachings of Freire and discuss issues of Popular Education. The event is a cultural phenomenon in Cuba and this is only the second time an invitation is being extended to Americans.
This year, the Presence of Paulo Freire's central theme focuses on best practices that promote the application of Popular Education among its advocates in various contexts.
The main objectives are to: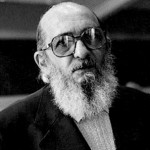 Honor the Educator of the People, Paulo Freire, Professor Emeritus of the Americas, on the 20th anniversary of his death.
Promote, develop and expand the research of the practical and theoretical contributions of Paulo Freire's work on Popular Education (Education for the People) by evaluating what impacts they have had.
Critically reflect on the experiences by evaluating the impact of Popular Education in order to draw out and gain theoretical and methodological lessons related to Freire's principles.
Stimulate artistic creation from within the surrounding community, based on the work and thought of Paulo Freire and their own community experiences as it relates to the central topic of reflection.
Promote a critical exercise from the reality of participating youth so they may push the boundaries using transformative actions from their young perspectives.
Reflect on the processes of inclusive education and how they contribute to its establishment from a social dynamic.
The Presence of Paulo Freire will also share its space with the 4th International Festival Workshop: "ProCreArte 2018", the 3rd Student Forum: "Pushing the Boundaries" as well as the 2nd International Workshop on Inclusive Education: "For an Education for Everyone."
Established academics, early career-career scholars and educators of all levels (K – Postgraduate) are encourage to participate. The Scientific Committee is currently accepting proposals until March 31, 2018.
If you can arrive a few days earlier, Civitas GES has arranged for a weekend of bonus exchanges including the opportunity to participate in the celebration of International Workers Day in Cienfuegos on May 1. The May Day celebration in Cienfuegos is unlike any other in Cuba as the parade route is along the city's malecon ("sea wall") and ends with an outdoor concert.
This travel program for X International Meeting of "The Presence of Paulo Freire" is organized by Civitas Global Educational Services so that participants comply with all of the requirements of the general license under 31 CFR 515.564(a) of the US Department of Treasury of Office of Foreign Assets Control (OFAC). Travelers must agree to comply with the OFAC requirements to participate in this program. For more information on the OFAC general license guidelines, click here.