About Cuba TIES 2018
Block off your calendars for the week of October 22, 2018 for the 4th Workshop of Strategic Alliances for the Internationalization of Higher Education hosted by the University of Cienfuegos.
Cuba TIES 2018 welcomes presenters from all over the world. This year our main themes will focus on diversity and international education.
Cuba TIES 2018 will be under the umbrella of the larger 2nd International Scientific Conference of Cienfuegos (CCC 2). CCC 2 will feature once again a diversity of workshops that will include: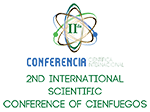 Management of Fragile Ecosystems
Energy and Environmental Studies
Sociocultural Studies
2nd PearLanguage Symposium
Information and Library Sciences
Registration for Cuba TIES 2018 and the 2nd International Scientific Conference of Cienfuegos will begin on February 15, 2018. Watch this space or click here to sign up and join our mailing list for additional information and updates.
Un abrazo,
TIES III Organizing Committee
Dr. C Juan B. Cogollos Martínez, Rector
Dra. C Yailén Monzón Bruguera
Dr. C Eduardo Pérez Novo
Dr. C Raydel Avello Martínez
Dra.C. Maybelys Veliz Rodríguez
Ms. C Lourdes T. Pomares Castellón
Ms. C Dayni D. Díaz Mederos
MSc. Daniel Cima Mesa
Ms. C Lilian M. Peraza Vilorio
MSc. Jorge Luis Quintero Barrisonte
DI. Yunisley Bruno Díaz

We would like to thank the following organizations for their support and dedication to building partnerships in Cuba based on mutual respect and understanding.