Walking the Walk: Drexel Global Health Collaborates at Fragile Ecosystems Workshop
Dr. Shannon Marquez, Associate Vice Provost for Global Health & Development led a mission of doctors, environmental and engineering professors from Drexel University to Cienfuegos, Cuba to share and collaborate with their counterparts at the 2nd Workshop for the Management of Fragile Ecosystems ("EcoFrag") that began on December 8, 2015.
More than fifty educators and scientists from six countries gathered for three days to discuss and debate issues of sustainability, sociocultural implications and collaborative initiatives for the management of fragile ecosystems.
Some members of the Drexel University delegation presented papers for discussion, sharing their knowledge on subjects ranging from the stimulation of biodiversity in the New Jersey Pinelands to the impact of urban gardens in the communities of Philadelphia. Dr. Dane Ward who earned the nickname, "El Cobra" from his Cuban colleagues for his expertise of pineland snakes and other fauna reflected on his experience at EcoFrag:
'It was truly an amazing experience, having the opportunity to share work from Drexel Universities' Laboratory of Pinelands Research at the 2015 EcoFrag meeting. We were able to meet a number of amazing researchers who were eager to exchange management techniques for fragile ecosystems in Cuba. Surprisingly, although the ecosystems are different, the techniques discussed, in many cases, can be utilized around the world. I am excited to attend this great meeting again in the future and can't wait to see what ideas arise.'
Professors Ryan Rebezo and Sabrina Satari were able to also share their thoughts with the nation through news interviews on the broadcast network Perlavision. "Our trip was very well organized and allowed us to both learn and experience a great deal of Cuban culture while also presenting opportunities to interact with local professionals in our fields of study" reflected Professor Rebezo upon his return to Philadelphia.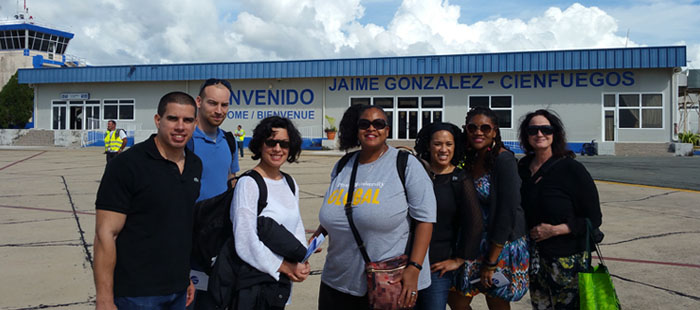 The Drexel University Office of Global Health Delegation (left to right): Dr. Ryan Rebezo, PhD; Dr. Dane Ward, PhD; Dr. Sabrina Satari; Dr. Shannon Marquez, PhD, Assistant Vice Provost, Office of International Programs; Dr. Yanick Vibert, MD, PhD.; Dr. Veronica Flake, MD; Dr. Eugena Ellis, PhD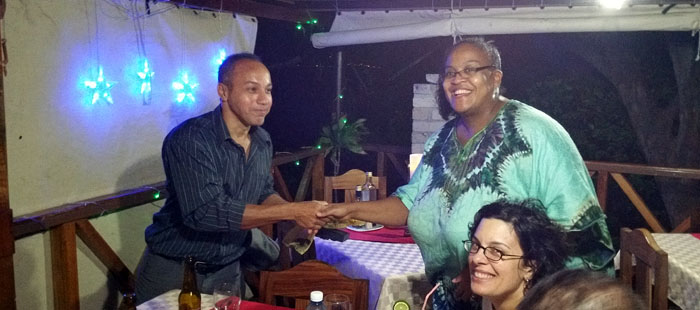 Dr. Marquez presents an official Drexel tie to Dr. Raul Rodriguez Muñoz, Director, Department of Science and Technology and Advisor to the Rector at a welcome dinner for the delegation.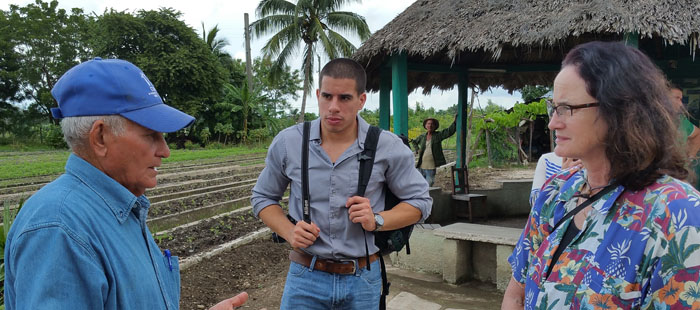 Drs. Rebezo and Ellis listen to an explanation of various methods on an organic urban farm, known as an "organoponicó." This particular organoponicó yields 42 crops and serves as a teaching model for agricultural students and farmers around the country. The farm is also economically self-sustaining.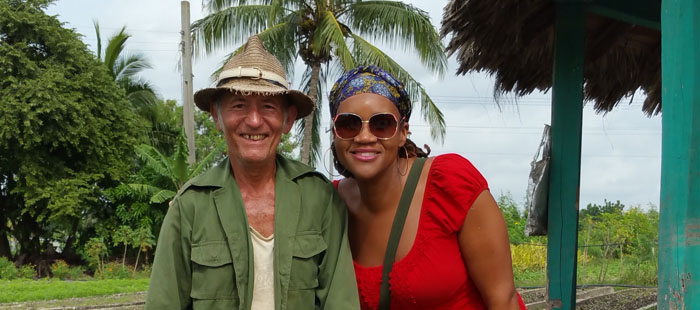 Dr. Flake poses with one of 11 full-time employees at the organoponic. The workers are paid bonuses every three months based on the farm's revenue for the period.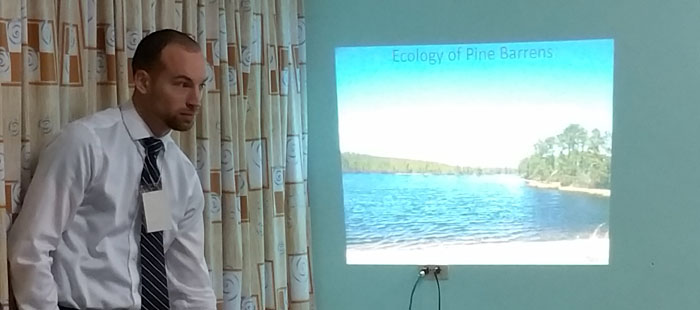 Dr. Ward fields questions from the audience on his work in the Pine Barrens of New Jersey: "'It was truly an amazing experience, having the opportunity to share work from Drexel Universities' Laboratory of Pinelands Research at the 2015 EcoFrag meeting."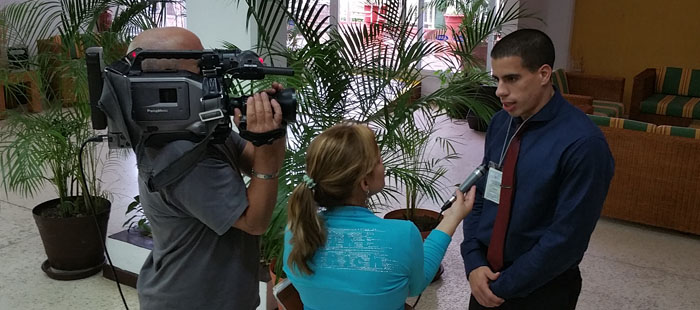 Dr. Rebezo speaks to the Cuban media regarding his work and experiences in Cuba and at EcoFrag 2015.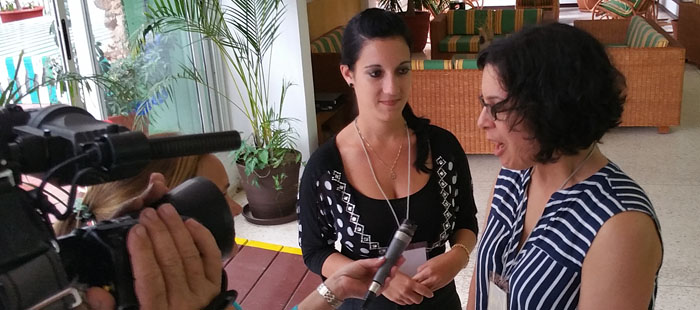 Upon reflection, Dr. Spatari characterized EcoFrag 2015 as a convergence of "multiple disciplines from ecology, agriculture, and engineering to the social sciences. I found many remarkable parallels between my own research and ongoing research in Cuba, in particular on the mitigation of greenhouse gas emissions from agriculture to address climate change. Sharing my thoughts about this when interviewed on Cuban TV came as an unexpected opportunity to share my research with the public!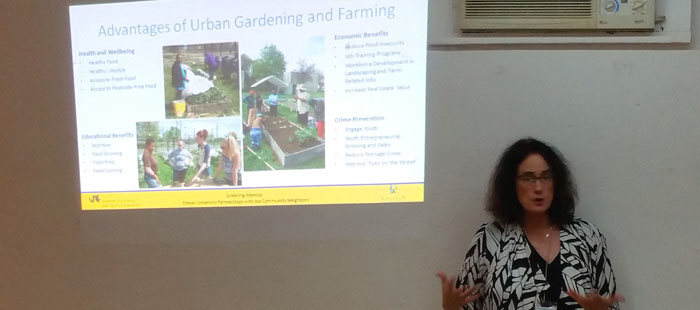 Dr. Ellis led a very lively presentation as her work on urban gardening and farming exposed many parallels with work being done in Cuba: "In collaboration with UCf, I hope to share this knowledge in the future with the urban farmers here in Philadelphia."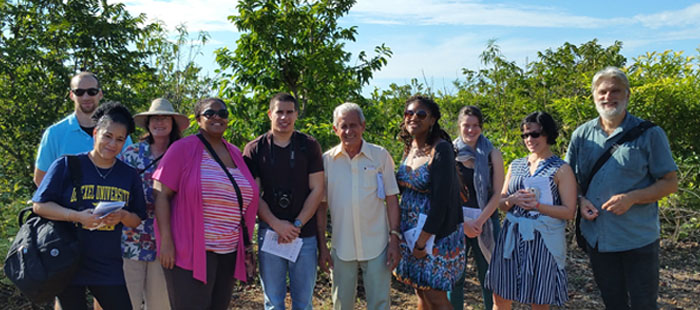 Wilfredo Padrón (center) runs the farm known as "Pedregal" for its rocky soil. Pedregal yields 78 varieties of organic crops. In collaboration with the UCf School of Agrarian Sciences, researchers anaylze the soil throughout the farm to determine the areas best suited for each crop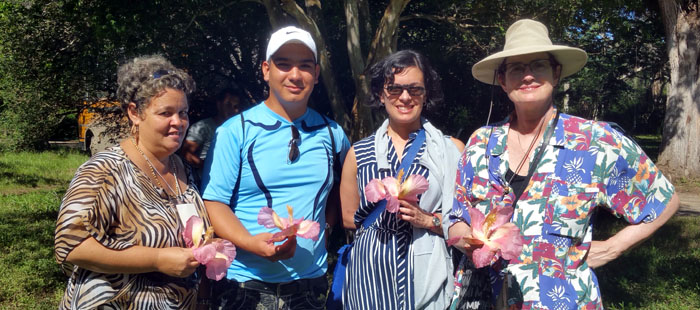 The delegation visits the Cienfuegos Botanical Garden with panelist from other provinces. The garden was founded in 1901 by Harvard University. The gardens today are home to the most diverse flora collections in the Caribbean.
The Drexel delegation also visited some local ecosystems and community projects firsthand alongside their Cuban counterparts. Some sites included a flamingo breeding ground, the Cienfuegos Botanical gardens and a visit to an economically self-sustaining urban organic farm.
Dr. Eugenia Ellis presented on an urban farming project in the Philadelphia neighborhood of Mantua found some real opportunity to bring home some potentially new methods for sustainable urban farming. "Related to my recent research was the visit to an organic garden developed as a natural ecosystem with plants and insects that work together to cultivate healthy, pesticide-free produce. In collaboration with UCf I hope to share this knowledge in the future with the urban farmers here in Philadelphia."
The three-day workshop was hosted by the University of Cienfuegos and organized by the Center for the Transformation of Sustainable Agrarian Studies (CETAS) and the Center for Sociocultural Studies (CESOC). "It has been an excellent opportunity to identify common areas of work and to share mutual knowledge" said Dr. Marianela Morales Catalyud, organizer general of EcoFrag and Director of the Center for CESOC. "I am glad that the delegation enjoyed the experience and I hope that we can multiply our efforts for mutual collaboration."
Drexel University represents the first US University to return to Cuba to explore additional opportunities for collaboration since the historic 1st Workshop of Strategic Alliances for the Internationalization of Higher Education took place in October of 2015 known as TIES 2015. "Our greatest challenges today—such as sustainability, health and ecosystem impacts from climate change, water conservation, and environmental degradation—are global," commented Dr. Marquez,"requiring comprehensive solutions, and new interdisciplinary collaborations. The Fragile Ecosystems Conference provided an extraordinary opportunity for our interdisciplinary delegation from the Drexel Department of Biodiversity and Environmental Science (College of Arts & Sciences); The Academy of Natural Sciences; Department of Civil, Architectural and Environmental Engineering (College of Engineering); Department of Environmental & Occupational Health (School of Public Health); and the Department of Pediatrics (College of Medicine) to interact with colleagues, present research, and develop mutually beneficial collaborations with faculty from the University of Cienfuegos to address these challenges."
Click here to view the Cuban television newspiece on EcoFrag 2015.
In 2016, EcoFrag Workshop will be held in October as part of the International Scientific Program hosted by UCf. To stay informed, you can contact CubaPrograms@CivitasGES.com.
####
Civitas Global Educational Services is an educational services provider focused on creating bridges between cultures and nations through education and partnership building.