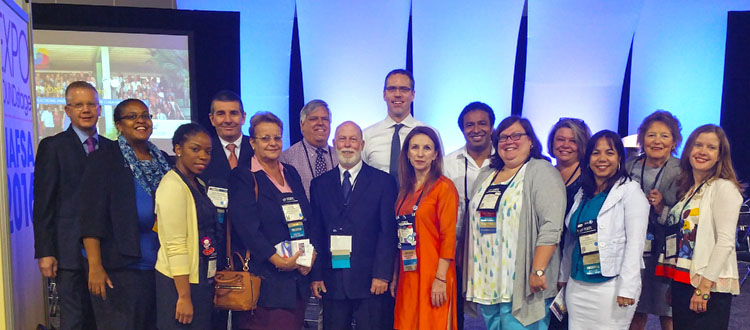 Cienfuegos Takes Initiative at NAFSA
A delegation of Cuba Scholars from La Universidad de Cienfuegos made a big impact at the NAFSA Annual Conference this year. The four-person delegation, headed by UCf Rector, Dr. Juan B. Cogollos presented at several sessions during the week in Denver. Dr. Cogollos presented an overview of the higher educational system in Cuba. It was the first time that the president of a Cuban university presents at the national conference.
The delegation which also included, Lourdes Pomares Castellon, Dayni Diaz Mederos and professor Dictinio Diaz from the Office of International Relations and the Faculty of Arts and Humanities shared best practices for effective partnership building and alternative strategies for program development outside of Havana.
The delegation also presented opportunities for collaboration with institutions including the Workshop of Strategic Alliances for the Internationalization of Higher Education, known as Cuba TIES. Last year, institutions from seven countries gathered to explore partnerships and share best practices for programs development in Cuba. NAFSA was among the 26 US institutions that attended the inaugural Cuba TIES.
NAFSA rolled out the red carpet for the Cuba Scholars as they were received with a warm welcome led by CEO and Executive Director Marlene Johnson. Sponsorship of the delegation is a part of NAFSA's Cuba Engagement Initiative, which "focuses on creating sustainable partnerships between U.S. and Cuban academic institutions. The initiative builds on NAFSA's longstanding focus on Latin America and Cuba and redoubles NAFSA's commitment to the use of academic exchanges and partnerships to build a more globally engaged United States and develop new opportunities for U.S. and Cuban international higher education leaders to collaborate."
The delegation's participation at the NAFSA Annual Conference kicked off the delegation's seven city, US summer tour, an effort coordinated by Civitas Global Educational Services.
NAFSA recorded an interview with the UCf delegation to get to get their thoughts and reflections on internationalization and the 2016 NAFSA Annual Conference. To view it, click here.
For more information and to register for Cuba TIES 2016, visit:
http://civitasges.com/go-abroad/cuba-ties-2016/
For more Information on NAFSA's Cuba Engagement Initiative, visit:
http://www.nafsa.org/Programs_and_Events/Cuba_Engagement_Initiative/